News
A Turning Wind, book two in The Chosen Man Trilogy, was published on 23th April 2018.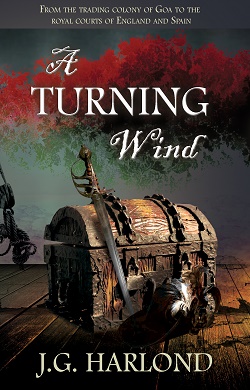 Ludo da Portovenere, one time corsair, sometime merchant, secret agent of monarchs, servant of none.
From the trading colony of Goa to the royal courts of England and Spain, Ludo da Portovenere completes difficult and dangerous secret commissions on his own terms and for his own reasons. But, as these tasks bring him closer to success, Ludo is forced to confront dangerous secrets of his own.
While Ludo pursues a delicate mission for the English queen in the Spanish royal court, Alina, Baroness Metherall, faces new challenges and dangers while trying to come to terms with what it means to be married to one person and love another. Ultimately, Ludo and Alina must decide who they really are, and to what extent their shared past should influence their future.
---
11th January 2018
The Chosen Man has received the rank A Discovered Diamond
by Discovering Diamonds.
The book was published on 29th July 2015 by Penmore Press Ltd.
---